Morristown, New Jersey is home to many great places to eat, with several fine establishments open to dining with your furry friends. The following eateries are some of the best dog-friendly venues in the Morristown area.
South + Pine American Eatery
On a mission to make patrons feel as if they're enjoying a cozy dinner at home,
South + Pine
is a neighborhood favorite. It's known for its great American fare, welcoming atmosphere, and bring-your-own-beverage attitude. South + Pine is open for lunch and dinner throughout the week, as well as weekend brunch.
Guerriero's Ristorante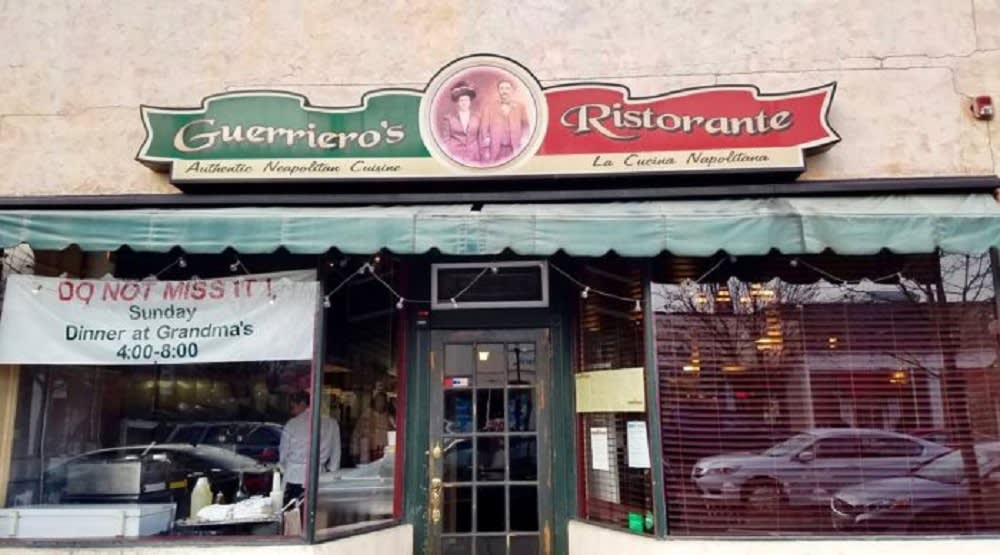 Photo courtesy of Guerriero's Ristorante website
Located in historic Morristown,
Guerriero's Ristorante
is a popular Italian restaurant on South Street. Located right next to the Community Theatre, Guerriero's offers menus for dinner and pre-theater meals. Serving up Neapolitan-style dishes crafted by chef Jack Guerriero, your meal will have the freshest ingredients and unique flavors. Guerrerio's Ristorante offers classic Italian courses with antipasti, primi piatti, secondi piatti, a salad course, and of course dessert. This establishment also allows for a BYOB option.
Pavesi Ristorante
Another wonderful, dog-friendly Italian option is
Pavesi Ristorante
. Located in the heart of Morristown, Pavesi is a charming restaurant that's popular for its tasty Italian fare — pasta, fish dishes, and meats are all served alongside salads, soups, and sweet desserts. Pavesi Ristorante offers both indoor and outdoor seating and can host private events for many occasions. In addition to its high-quality food and drink, live entertainment is offered in both the dining room and sidewalk cafe on the weekends.
Revolution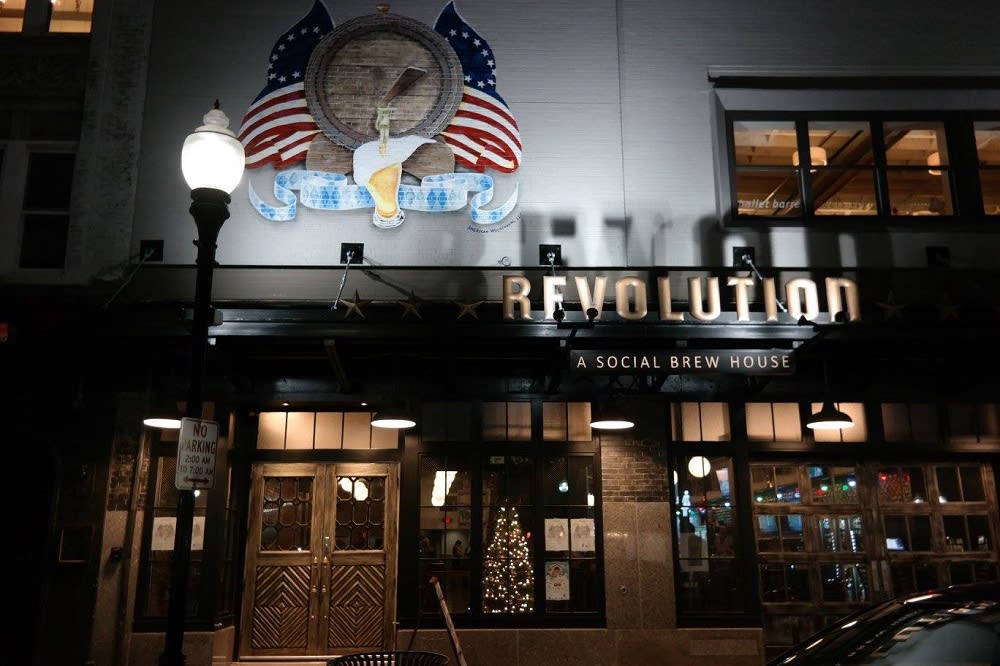 Photo credit: Revolution Facebook
Revolution
is a social brewhouse and sports bar renowned for its delicious German pub fare. This venue offers indoor and outdoor dining, with rooftop seating available as well. Revolution's kitchen prides itself on its modern takes on traditional German foods, using the freshest local ingredients from New Jersey, New York, and Pennsylvania. There are also weekly events, making Revolution a lively place to visit for a night out with friends, both human and dog.
Chef Fredy's Table
Located in downtown Morristown, Chef Fredy's Table is a popular fine dining restaurant. Pairing a casual vibe with praise from well-known publications such as The New York Times, Chef Fredy's Table is hailed as one of Morristown's best places to dine for a variety of occasions. Chef Fredy Umanzor crafts beautifully presented dishes to match the refined setting in which they're served, making Chef Fredy's perfect for dates or anniversaries. Like many restaurants on this list, Chef Fredy's Table features a bring-your-own-booze option.
The Committed Pig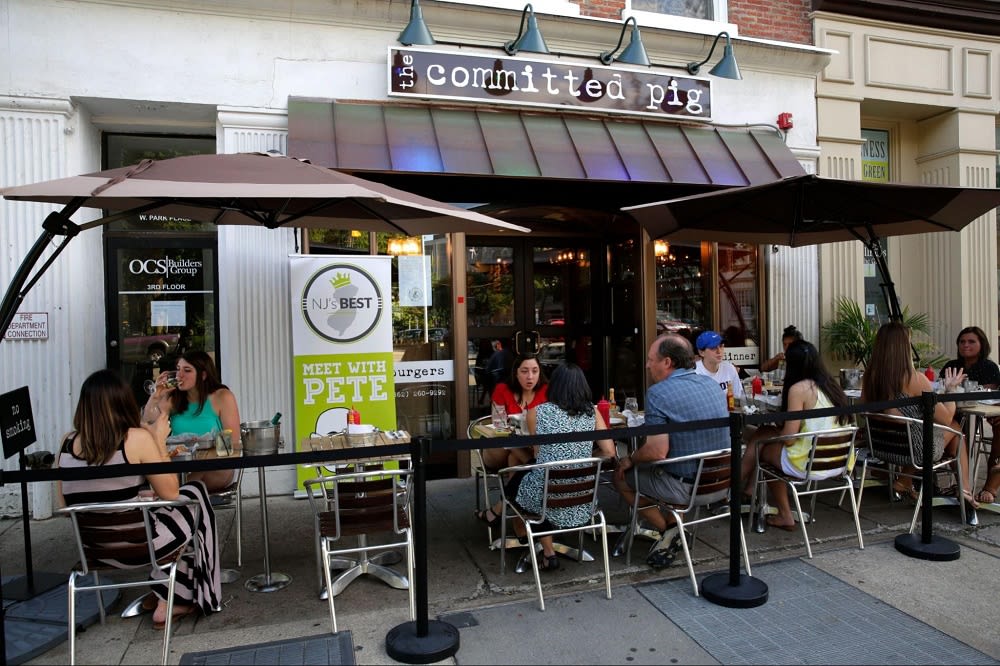 Photo courtesy of NJ.com
The third restaurant created by restaurateurs Jerry Rotunno and Tony Monteiro,
The Committed Pig
is one of the pair's most successful endeavors. With a menu full of classic American dishes, The Committed Pig is the perfect place to catch up with friends over comfort food. Offering everything from pancakes and french toast to burgers and grilled cheese, this restaurant has something for everyone. Several publications have given The Committed Pig accolades, including New Theory's "Top 5 All-American Restaurants in New Jersey," Health and Life Magazine's "Top 3 Burgers," and many more.
Olive Lucy's Kitchen Table
Located in downtown Morristown,
Olive Lucy's Kitchen Table
is a great choice for Italian and Portuguese-influenced dishes. An elegant and higher-end choice in Morristown, Olive Lucy's has a great atmosphere and a BYOB attitude like many restaurants in town. With vegetarian and gluten-free options, some of the delicious fare offered here includes seafood, pasta, burgers, and much more.
The Godfather of Morristown
If you're in the mood for a pizza or other Italian fare,
The Godfather of Morristown
is the perfect place to dine with your furry friend. With everything from soups and salads to pizzas and seafood, the warm and inviting atmosphere of this restaurant entices you to stay for a nice Italian meal - even if you wanted to just stop in for a slice. With longstanding employees and a loyal clientele, you'll find community in this neighborhood spot.
Malay
As this dog-friendly restaurant's name implies,
Malay
is a Malaysian restaurant located near Morristown's downtown. This quaint restaurant is known for its charming atmosphere, as well as its delicious Malaysian and Thai fare. Offering rice dishes, vegetable specials, noodles, chicken, and seafood — all in varying degrees of heat — Malay will have a meal perfect for any group.
If you and your furry friend are looking for a great piece of Morristown real estate, Dominique Scura of Compass is a great resource to aid in your search. With vast experience in the world of Jersey real estate, Dominique has over a decade of knowledge of the North New Jersey market. Why wait? Contact
Dominique Scura Team
today!