For most dog owners, their pet is a member of the family, offering unconditional love and special warmth to their masters. Finding ways to enrich their life can be a difficult task, and training an active breed of dog can be an additional challenge, as they require a greater level of entertainment and activity. Luckily, some communities have been making a shift to create more areas that are accessible for both you and your pooch.

The charming township of Denville, NJ, is one such community. Located just west of Newark, Denville has a long list of activities that are sure to delight you and your dog.
Denville Dog Park
If you need a place to socialize your pooch for public fun, dog parks are a perfect stepping stone. The
Denville Dog Park
is the town's best place to take your dog when they need to get their extra energy out or practice socialization with other pups. There is a small annual fee, and you'll need to fill out a little paperwork, but both of these steps ensure the safety of you and your pup by making sure that all who play there are up-to-date on their vaccinations and have a clean bill of health. Denville prides itself on being a friendly and welcoming community, and the town's dog park is a safe, fun way to make new friends for you and your furry friend.
Tourne County Park
Tourne County Park
is an open park for your pet to explore — though it's advised you keep your pup on a leash, as they have ten miles of trails and over 500 acres of space. The park is active in all seasons, opportunities here include hiking, fishing, horseback riding, sledding, and cross-country skiing. The true highlight of the park, however, is the Tourne. Take a hike to the top and witness a stunning view of the New York City skyline in the distance. With an elevation of only about 800', it's not too strenuous and has a payoff that's well worth the walk.
Muriel Hepner Park
Muriel Hepner Park
is a more relaxed park for you and your pooch to go for a stroll. Ideal for a daily stop at the end of the day, this park is a great spot to take your dog for regular walks. It's perfect for peace and quiet, but not overly secluded. Enjoy brilliant foliage, active fauna, and a sparkling lake as you meander through the park. Lush trees blanket the park and provide a unique opportunity to enjoy beautiful views year-round and watch the seasons change.
Denville Trail System
The Denville Township has a master plan to create a trail system connecting the best and most heavily trafficked attractions in the area with the
Denville Trail System
. Eighteen miles of trails through the region will allow you to walk to common stops like downtown Denville, the local hospital, great shops, and award-winning restaurants. You and your dog can easily access pet-friendly locations and expend some energy together. While it's not fully completed, this trail system will be a game-changer for Denville locals looking to be more environmentally focused. If you have a dog that can keep up, consider heading out on a bicycle to traverse the town.
Thatcher McGee
If you're planning brunch with your friends, a date night, or simply want to grab a good cup of coffee,
Thatcher McGee
is perfect for you and your dog. There's plenty of outdoor seating, and the friendly staff is always happy to see pets. Reminiscent of an Irish pub, Thatcher McGee has both traditional Irish dishes and familiar bar food on the menu. If bangers and mash or corn beef and cabbage don't totally appeal to you, excellent pizza, burgers, and sandwiches are also available. Make sure to check out some of the events they host (like trivia night and happy hour) if you're looking to connect with the community.
Beignets
For a quick snack on an early Sunday morning or a coffee break whenever you need it,
Beignets
is a must-see café. Influenced by European sweets and treats, the family's love for each other and quality baked goods can be felt in all they do. All of their treats are named after kids and grandkids in the family. What makes this business unique—beyond their stellar donuts—is a menu that changes every morning. With dog-friendly tables available outside and their dynamic menu, you could become a welcomed regular and never get tired of everything they have to offer. With such a wonderful menu and infectious happiness, it's hard not to love Beignets.
The Second Half
For the perfect date night (where a dog or two can accompany the fun),
The Second Half on Main
is ideal. The summer months provide the best opportunity to fully experience this Denville favorite, especially if you want to sit outside on the patio and enjoy a five-star meal. The elegant setting, expertly crafted drink menu and excellent food options are the perfect way to wrap up a long week and spend time with your loved ones. Bring friends and taste test the exciting drink specials menu before heading out to explore the rest of Downtown Denville.
Downtown Denville
If you're looking to support small businesses and get in touch with fellow pet lovers in the Denville area, consider window shopping through
Downtown Denville
. Bursting with boutiques, and award-winning eateries, the downtown area is a quaint New Jersey gem. The welcoming attitude and energy of this small town have everything you'd expect from a Garden State township. Beyond the regular holiday events, many Denville clubs host activities downtown and publicly organize to raise money for local charities.
Denville Farmers Market
Another great way to sample the flavors of Denville with your pup is by visiting the
Denville Farmers Market
. Every Sunday from May to November, you and your dog can meander through a fantastic downtown farmer's market. Reviews for the market rave about the quality of goods to be found, kind vendors, and friendly shoppers. You can support local businesses and get quality ingredients and handcrafted gifts. The bustling activity and live music offer a wonderful way to spend a Sunday morning. While exploring downtown Denville, take advantage of
BringFido
, a website that lists dog-friendly activities, restaurants, and businesses available in town.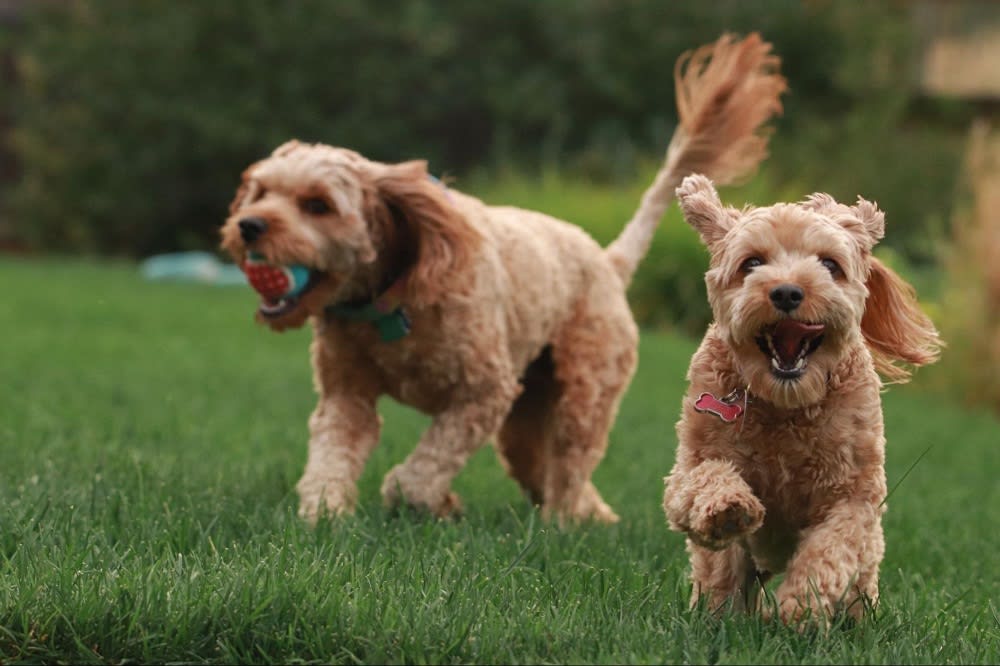 Looking for homes in Denville?
If you're house hunting for real estate near Denville Township, contact experienced New Jersey real estate agents at
The Dominique Scura Team
. Dominique will help you find the perfect New Jersey home for you and your pup. Her local expertise and superb customer service will make the entire real estate transaction feel like a walk in the park.