Getting outside is great for both physical and mental health, and Morris County offers an abundance of opportunities to enjoy the outdoors on the East Coast. There are parks and nature preserves all over the county and open spaces in centrally-located
Denville
.
The market for homes in Morris County remains strong. The median price for homes throughout the county is about $525,000, roughly $90,000 more than the statewide median price. The market is considered a slight seller's market, which means more people are looking to buy than properties.
Denville Farmers' Market
Residents of Denville houses who like to maintain healthy diets can head to the
Denville Farmers' Market
even in the winter. The winter hours are every Sunday from 10 a.m.-1 p.m., from early December to late April. The Denville Farmers' Market operates at the Bloomfield Avenue parking lot in downtown Denville. It usually features more than 25 vendors selling produce from local farms and artisanal products. Visiting the farmers' market is a great way to support the hardworking farmers in the area and keep healthy food on your table. Organizers of the market remind customers to bring reusable bags to help the environment.
Frelinghuysen Arboretum & Willowwood Arboretum
If you're itching to explore vast, rolling gardens bursting with wildlife, look no further than the Frelinghuysen and Willowwood Arboretums.
Frelinghuysen
features a living museum of over 124 acres of nature. From scientific and educational workshops to weddings and the ultimate spot for family photos, Frelinghuysen is a beautiful place for all things outdoors. Whether you're interested in a gardening class or a summer camp for your little one, you can find it at the Arboretum!
Another beautiful arboretum is
Willowwood
, which features over 3,500 plant varieties across 136 acres of rolling farmland. The historical residence on the property, The Tubbs House, was built in 1792, with the gardens planned to blend around the house and surrounding farmlands. The arboretum is next door to the
Bamboo Brook Outdoor Education Center
, another favorite Morris County outdoor destination. Sign up for their "What's in Bloom?" Tour on May 18 to tour the property, learn more about their gorgeous flowers, and keep an eye out for the Photo Scavenger Hunt at both locations!
Cynthia's Landing
Cynthia's Landing is a peaceful spot on the Rockaway River right in the heart of Denville, where people who have just purchased Denville real estate can go for leisurely walks or just sit and enjoy the outdoors. The area is heavily forested, which offers a nice contrast to the busy suburban area that surrounds it. Be sure to dress warmly when visiting Cynthia's Landing in the winter.
Bamboo Brook Outdoor Education Center
Photo Courtesy of Enchanted Gardens
A visit to the
Bamboo Brook Outdoor Education Center
provides a beautiful afternoon spent hiking through fields and brooks in this 670-acre botanical garden and public park in Chester Township. Visitors can view wildlife, butterflies, and birds in the forests and fields and tour a formal garden and a house. The garden was designed by Martha Brookes Hutcheson, one of the United States' first female landscape architects. The home and garden were added to the National Register of Historic Places in 1989 under their original name, Merchiston Farm.
Schiff Nature Preserve
Another great outdoor space is the 780-acre
Schiff Nature Preserve
in Mendham Township and Mendham Borough. The preserve is known as a place where "Wild Things Happen Naturally." People who have recently purchased houses for sale in Morristown can hike on 12 miles of trails, attend an environmental educational program, and visit the Native Plant & Butterfly Garden. Families can even hold eco-themed birthday parties for kids.
The preserve protects a large swath of nature in a rural part of the county. There are also vintage buildings built by the Boy Scouts during the Great Depression and displays of artifacts from the period of the Revolutionary War. The trails are open to the public from dawn to dusk. The Nature Center is usually open Tuesday through Friday. There are also various trailheads and limited parking throughout the preserve.
Muriel Hepner Nature Park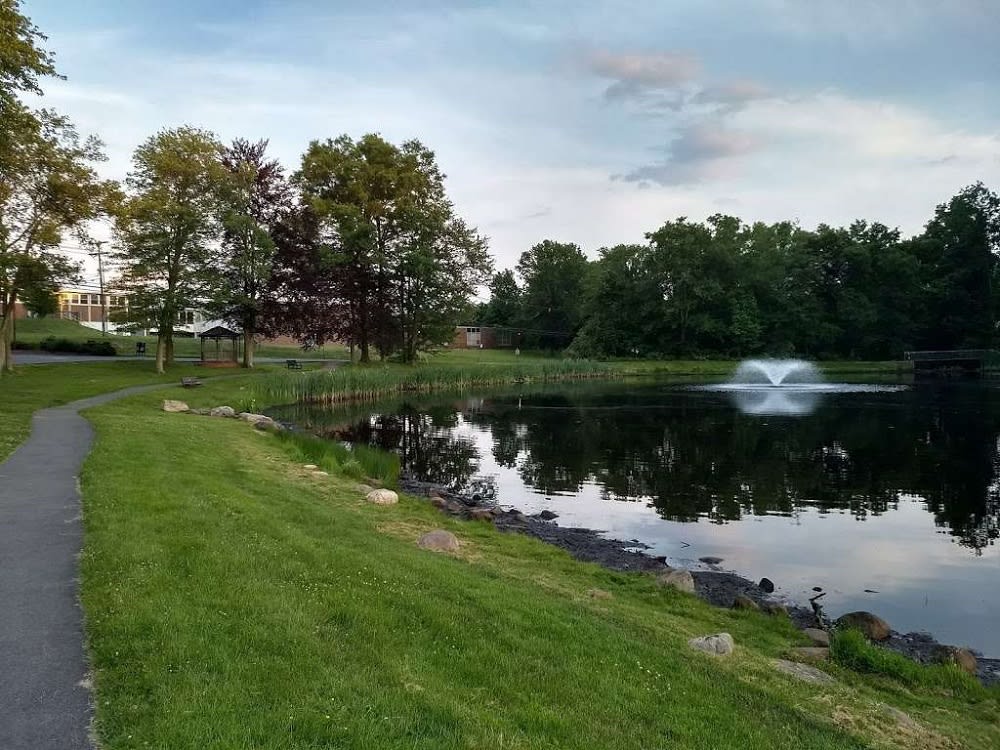 Photo Courtesy of BusinessYab
Families who have just purchased Denville houses can explore
Muriel Hepner Nature Park
, a small but fun playground next to a pond with a fountain in Denville. It is considered one of the best family-friendly parks in Denville and is very popular on weekends. The playground equipment is fenced in for the safety of the children. There are also walking paths where visitors can go on relaxing walks.
Are you looking to move to Morris County?
These are just a sampling of ways to get outside in Morris County, and there are many more to suit all your interests and hobbies! If you are interested in living in one of the many great communities in Morris County, the best way to get started is to find an expert real estate agent. If you want to buy a property in Morris County in 2022, contact
The Dominique Scura Team
for expert service and guidance through the buying and selling process.